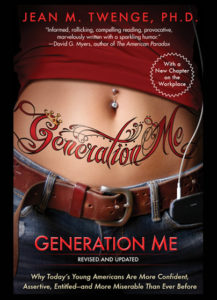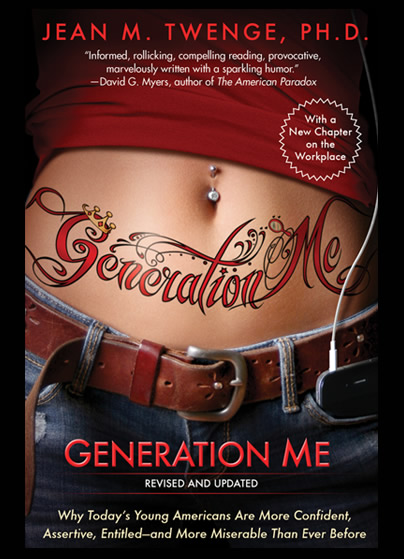 Born in the 1980s and 1990s, Millennials are reshaping schools, colleges, and businesses all over the country. They are tolerant, confident, open-minded, and ambituous, but also disengaged narcissistic, distrustful, and anxious. These
children of the Baby Boomers are now feeling the effects of the changing job market – even as they effect change the world over.
When this "fascinating" (Publishers Weekly) book was first published in 2006, psychologist Dr. Jean Twenge made headlines with her findings from the largest intergenerational study ever conducted – with data spanning six decades – about the lives of the generation now in their 20s and 30s. In this newly revised and updated edition of Generation Me, Dr. Twenge uses data from 11 million respondents to show how profoundly different today's young adults are from those in the past, including in their attitudes toward work. With irony, humor, and sympathy, Dr. Twenge shows that American culture raised the aspirations of today's young people just as the world became more competitive, creating an enormous clash between expectations and reality.
Dr. Twenge makes controversial predictions about what the future holds for GenMe and society as a whole. She also uncovers shocking truths about this generation, including dramatic differences in sexual behavior and religious practice. Engaging, controversial, prescriptive, and funny, Generation Me gives Boomers and GenX'ers new and fascinating insights into their offspring, and helps those in their teens, twenties, and thirties find their road to happiness.
Table of Contents:
Chapter 1: You Don't Need Their Approval: The Decline of Social Rules
Chapter 2: An Army of One: Me
Chapter 3: You Can Be Anything You Want to Be
Chapter 4: The Age of Anxiety (and Depression, and Loneliness): Generation Stressed
Chapter 5: Yeah, Right: The Belief That There's No Point in Trying
Chapter 6: Sex: Generation Prude Meets Generation Crude
Chapter 7: The Equality Revolution: minorities, Women, and Gays and Lesbians
Chapter 8: Generation Me at Work
Chapter 9: What Do We Do Now?